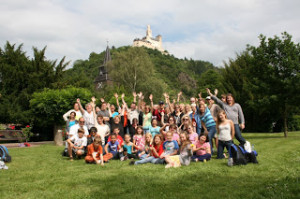 Are you interested in joining us on the next trip to Koblenz, Germany? Summitt Fourth and Fifth graders are invited to get involved in the Koblenz Exchange Program. Children who would like to attend write essays about why they want to participate in the program, and a committee chooses the participants. Parents must also be committed because there is fundraising activities, including the Teacher Talent Show, Movie Nights, and Holiday Bazaar, along with regular meetings for students and parents to prepare for the trip.
Watch for program updates in all Summitt communications. If you would like more information, please contact one of Koblenz committee members: Heather Brannies and Heidi Meurer.
History of the Summitt-Koblenz Exchange
It began with a gift of art. In the fall of 1992, the cities of Austin and Koblenz decided to become Sister Cities under Sister Cities International. Former Summitt teacher Ms. Renata Anderson asked Diane Mansfield, then Summitt art teacher, to prepare art for gifts to the visiting Koblenz delegation. One 4th grade art class painted pictures that were framed and presented to the delegates at an Austin City Council meeting. The delegates were so pleased by the paintings of Austin that they invited the students to visit Koblenz in the summer of 1993. Mrs. Mansfield, about twenty students, and a few parents made the trip and began the friendship with the Schenkendorf Schule. In 1994 the Schenkendorf students visited Summitt and the exchange was born. Summitt visits Koblenz every other year. In the other years, the Schenkendorf Schule visits Austin. The exchange is family-to-family. A family hosts a parent and a student.
In addition to Mrs. Mansfield, other teachers became leaders of the exchange over the years: Mary Hutka, Nicole Wilson, April Sawtelle, Heather Doyle, Heidi Meurer and Heather Brannies. Austin and Koblenz are Sister Cities at every level: business, university, high school and elementary school. In October 2012, an official delegation from Koblenz visited Austin to celebrate twenty years of Sister City partnership. On October 30, 2012, the delegation visited Summitt for an assembly celebrating the twentieth anniversary. Summitt played and continues to play a vital role in this partnership. Learn more about the history and current news about the Austin/Koblenz partnership.